By

Steven Pressfield




Published

:

February 22, 2017

I've quoted Dan Sullivan before and I'm gonna do it again. Do you know him? He's the founder and CEO of Strategic Coach and one of the great mentors to entrepreneurs in the world. So, in keeping with this series on the Professional Mindset, let me rip off a few more of his ideas for you. (Thanks, Dan!)

Dan tells the story that when he was in the army stationed in Korea, one of his jobs was putting together shows for the troops. Frank Sinatra came over one time. Dan studied him carefully and, as he says,
One of the things I learned was that Frank Sinatra does not move pianos.
Frank has other guys who do that. Frank does only two things, Dan says.
Frank Sinatra sings, and he prepares to sing. That's it.
Dan has a concept he calls "Unique Ability." This, he explains, is the entrepreneur's gift. It's her singular talent, the one thing that she brings to her business that nobody else can bring.
Steve Jobs had a Unique Ability.
Seth Godin has it.
Shawn has it.
You have it too. In many ways your job as a writer or an artist is to find out what your unique ability is and then organize your day, your month, and your year in such a way that you maximize your time exercising your unique ability and minimize or outsource everything else.
When I was in Israel researching The Lion's Gate, I interviewed a number of people who had been close to Moshe Dayan, the great Israeli general and Minister of Defense. I heard over and over that Dayan used to say, "I don't want to do anything that somebody else can do."
In other words, Dayan brought something unique to the table. No doubt it was hard to define. It was an intangible. Vision, perhaps. Charisma. Whatever it was, he understood it and so did everyone around him.
His soldiers did not want Moshe Dayan to move pianos. If he tried to move a piano, his officers would have tackled him and dragged him off the stage. They wanted Dayan to command, to do what he could do that nobody else could do.
Dan Sullivan, when he speaks of unique ability, is not thinking specifically of writers or artists, he's thinking of entrepreneurs. He's thinking of Larry Ellison or Sergey Brin or Steve Jobs. But the concept applies, I believe, more to writers and artists than to anybody.
Stephen King has Unique Ability.
So does Toni Morrison.
And Tom Wolfe and Harper Lee and J.D. Salinger.
Each of them brings something to the party that nobody else can bring.
I read somewhere that we all should find that one thing that we can do better than anyone else in the world. When I first heard that, I thought, "That's a bit grandiose, isn't it? What could we possibly do that fifty thousand other people couldn't do better?"
But I was wrong.
I have something, maybe more than one thing, that I can do better than anyone else in the world. So does my friend Randy and my friend Victoria. So do you.
My friend Mike just showed me a manuscript he's been working on for five years. The pile of pages was a foot high. Mike's book had created an entire world, down to the most minute details. He was, in the arena he had envisioned and brought to life, the best in the world. He was Frank Sinatra.
As writers and artists, our unique ability is our voice. Our peculiar, idiosyncratic point of view. Our sense of humor, our sense of irony, our one of a kind vision of the world.
Don't feel bad if you're twenty years old or forty years old and you're saying to yourself, "I don't know what my unique voice is."
The truth is we don't know what our voice is until we sing once, and sing again, and sing again and again.
I've said before that I had no idea what books would come out of me until they came, and when they did, I was more surprised by them than anybody.
Our voice is there already.
We were born with it.
Our Muse knows it, even if we (so far) don't.
We reveal it to ourselves and to the world through work. By following our creative heart and seeing what comes out.
The Professional Mindset is about NOT moving pianos. It's about finding that unique voice that is ours alone.
Frank Sinatra sings, and he prepares to sing.
That's it.

By

Shawn Coyne

|

Published

:

February 24, 2017

I'm at the laundromat in Montana doing the midweek vacation clothes.  Will be back in the saddle next week.  Thought I'd run a personal favorite post of mine from back in the fall of 2015. 

Why can some surgeons, poker players, mountaineers, fashion designers, athletes and even writers tune out the external noise—and the even more distracting internal chatter—and perform seemingly effortlessly under extraordinary pressure?

While others with comparable training and technique, while capable and competent, just can't approach the holy moly level of a transcendent master?
More >>

By

Callie Oettinger

|

Published

:

February 17, 2017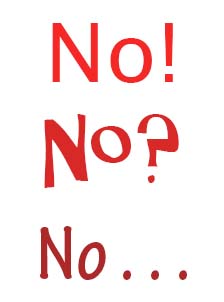 (This post went up almost 3.5 years ago. Bringing it back for a rerun today.)
I started this post Wednesday.
Thursday I read this from Seth Godin:
What "no" means

I'm too busy
I don't trust you
This isn't on my list
My boss won't let me
I'm afraid of moving this forward
I'm not the person you think I am
I don't have the resources you think I do
I'm not the kind of person that does things like this
I don't want to open the door to a long-term engagement
Thinking about this will cause me to think about other things I just don't want to deal with
What it doesn't mean:

I see the world the way you do, I've carefully considered every element of this proposal and understand it as well as you do and I hate it and I hate you.
Thursday afternoon, Jonathan Fields' "When No Means Go" arrived in my in box.
Seems a few of us have no on the mind this week.
As the third one in the ring . . . It's the reaction to no that's been on my mind.
More >>