By

Callie Oettinger




Published

:

February 17, 2017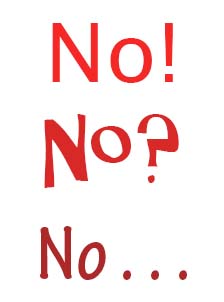 (This post went up almost 3.5 years ago. Bringing it back for a rerun today.)
I started this post Wednesday.
Thursday I read this from Seth Godin:
What "no" means

I'm too busy
I don't trust you
This isn't on my list
My boss won't let me
I'm afraid of moving this forward
I'm not the person you think I am
I don't have the resources you think I do
I'm not the kind of person that does things like this
I don't want to open the door to a long-term engagement
Thinking about this will cause me to think about other things I just don't want to deal with
What it doesn't mean:

I see the world the way you do, I've carefully considered every element of this proposal and understand it as well as you do and I hate it and I hate you.
Thursday afternoon, Jonathan Fields' "When No Means Go" arrived in my in box.
Seems a few of us have no on the mind this week.
As the third one in the ring . . . It's the reaction to no that's been on my mind.
More >>
by Bertrand, Tom and Printer Bowler
Golfing cognoscenti remember the late John Schlee's student-mentor relationship with Ben Hogan that, alas, ended with both their deaths. Were Hogan's final secrets lost? No, because Schlee passed them on to celebrated San Diego teaching pro Tom Bertrand. Here, working with Printer Bowler (author of the excellent Cosmic Laws of Golf), Bertrand delivers to us the master's last secrets on pronation/supination, the left hip, the right knee, and much more—plus fascinating psychological nuggets on competition and the keys to victory. Hogan's concept of "the moving wall" alone is worth the price of the book. A must-read for Hogan fans and golfing aficionados of all kinds.