By

Callie Oettinger




Published

:

February 17, 2017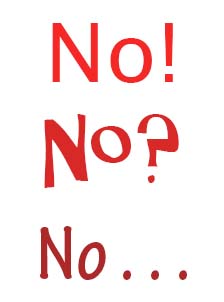 (This post went up almost 3.5 years ago. Bringing it back for a rerun today.)
I started this post Wednesday.
Thursday I read this from Seth Godin:
What "no" means

I'm too busy
I don't trust you
This isn't on my list
My boss won't let me
I'm afraid of moving this forward
I'm not the person you think I am
I don't have the resources you think I do
I'm not the kind of person that does things like this
I don't want to open the door to a long-term engagement
Thinking about this will cause me to think about other things I just don't want to deal with
What it doesn't mean:

I see the world the way you do, I've carefully considered every element of this proposal and understand it as well as you do and I hate it and I hate you.
Thursday afternoon, Jonathan Fields' "When No Means Go" arrived in my in box.
Seems a few of us have no on the mind this week.
As the third one in the ring . . . It's the reaction to no that's been on my mind.
More >>
by Plutarch (translated by Richard J.A. Talbert)
The best one-book introduction to Sparta and Spartan thought. Several of Plutarch's Lives of famous Spartans, plus Sayings of the Spartans and Sayings of the Spartan Women. Start here.