By

Shawn Coyne

|

Published

:

December 30, 2011

This blog is taking a few days off at the end of the year. Here's a favorite post from 2011.

The most beautiful woman in the world called me yesterday to tell me a story.

Every day she walks her three children through Central Park, drops off her eldest at school, and then walks her two youngest back across the park to begin that day's set of activities.  After school lets out in the afternoon, she repeats the journey.

Yesterday was the first sunny day in New York for months, warm enough to shed your jacket.  So hundreds of New Yorkers made a beeline to Central Park to get a whiff of impending spring.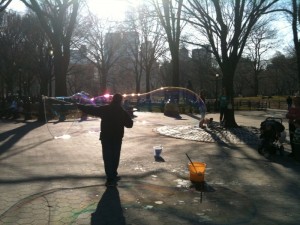 A crowd in New York is a magnet for commerce.  With the first thaw of the year, acrobats, magicians, mimes, face painters, bad caricaturists, balloon dog makers, hot dog venders, etc. seem to emerge from the ground and take their places in the park's prime walking thoroughfares.  What's really cool is that you'll notice that you'll be able to find the same juggler in the same place year after year.  Commercial territories are respected.  It's the code of the park.  If the guy who paints his face silver and acts like a statue claimed a spot in the park ten years ago and he shows up every year to the same spot, it's his.  No arguments.  Move along upstart ventriloquist. (more…)