By

Shawn Coyne

|

Published

:

June 28, 2013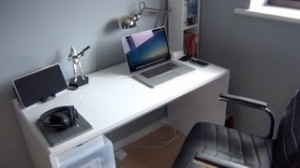 You've been thinking about writing a long form Story (novel, narrative nonfiction, essay) for as long as you can remember. You have this very specific and fascinating lead character in mind and you've been spinning ideas about his story driving in your car, riding the subway, even while having your teeth cleaned.  One day (for some reason it's usually a Saturday) you finally resolve to sit down and write your book.  You have a clear notion of what the beginning will be, so you plunge right in.
The first day is amazing.
The paragraphs fly by in the first couple of hours. You force yourself to take a break for lunch.  Was it Hemingway or Fitzgerald that recommended you leave your work in media res so that you have fuel to keep going when you pick it up again? No matter, whoever it was, was spot on! Your husband asks you how it's going and you tell him how you can't believe you've waited this long to write your book.
He's impressed.
After you chomp down a tuna fish salad sandwich, you head back to your desk and read what you've written in the morning.  Doesn't Steve Pressfield recommend that you "cover the canvass" as quickly as you can in your first draft? But you can't help yourself. I mean really, you do need to know where you've been to keep moving forward right?
It's terrible. (more…)