By

Callie Oettinger

|

Published

:

June 30, 2017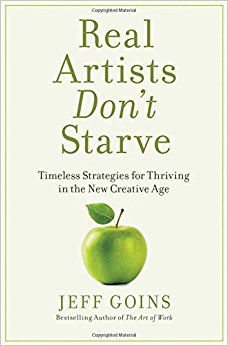 Have you ever experienced a lightning strike when reading a book, listening to a song, or staring at a painting?
That thing that's been hanging in the background emerges with a clear path ahead of it. You know what to do—how to paint that portrait, how to sing that song, how to frame that book. It's as if all the ideas in the universe came together at that moment to clear the way for one big idea—an idea that relied on you being in that exact place and time.
This line from F Scott Fitzgerald's The Last Tycoon fueled a "What It Takes" article last year:
"I can always tell people are nice," the stewardess said approvingly, "if they wrap their gum in paper before they put it in there."
This week I've been going back and forth between Haruki Murakami's Norwegian Wood and Jeff Goins' Real Artists Don't Starve.
Toward the beginning of Norwegian Wood lives a spin on that old "you are what you eat" saying:
"If you only read the books that everyone else is reading, you can only think what everyone else is thinking."
I typed it into my file of lines—those strands of words that double as defibrillators for my brain. When I stall, a read of those lines gets the noggin' pumping again.
So it was with that line in my head that I started reading Real Artists Don't Starve.
The back cover says the book debunks the myth of the starving artist.
While that might be what it is about, the book itself is an example of connecting the dots, which is what Greats do best. (more…)