By

Steven Pressfield




Published

:

January 18, 2017

A case could be made that many, many books and movies are about one thing and one thing only: getting Person X to say to Person Y, "I love you."

The trick is our characters can never use those blatant, overt words. That wouldn't be cool.

It wouldn't ring true to life.

And it wouldn't possess the power and the impact we want.

In fiction, "I love you" has to come in subtext, not text.

Here's one of the ways William Goldman did it in Butch Cassidy and the Sundance Kid.

It's the final scene. The outlaws are shot up and bleeding in a cramped hideout in a town square somewhere in Bolivia. Surrounding them, outside, are hundreds of uniformed, rifle-toting Federales. The instant our two "bandidos yanquis" step out through the door … well, we all know what's coming.
BUTCH

I got a great idea where we should go next.

SUNDANCE

Well I don't wanna hear it.

BUTCH

You'll change your mind once I tell you.

SUNDANCE

It was your great ideas that got us here in the first place. I never wanna hear another one of your great ideas.

BUTCH

Australia. I figured secretly you wanted to know so I told you: Australia.

SUNDANCE

What's so great about Australia?

BUTCH

They speak English there.

SUNDANCE

They do?
BUTCH tells Sundance about the banks, the beaches, and the women Down Under.
SUNDANCE

It's a long way, though, isn't it?

BUTCH

Aw, everythings's always gotta be perfect with you.

SUNDANCE

I just don't wanna get there and find out it stinks, that's all.
In Billy Wilder's The Apartment, junior exec Baxter (Jack Lemmon) has been in love with elevator operator Fran Kubelik (Shirley Maclaine) for the whole movie. But Shirley is blind to Jack's infatuation. Instead she's in a doomed affair with married exec Mr. Sheldrake (Fred McMurray). When Shirley tries to poison herself after Sheldrake dumps her, Jack saves her life by getting her stomach pumped and sitting up all night with her playing cards. Next day he stands up to Sheldrake (who's his boss), quits his job, etc., all the while believing Shirley still has no romantic interest in him.
In the final scene Shirley sees the light, races to Jack's apartment just in time to catch him before he packs up and leaves town.
MISS KUBELIK

What'd you do with the cards?

BAXTER

In there.
Shirley gets the deck. sits beside Jack on the couch.
BAXTER

What about Mr. Shelkdrake?

MIS KUBELIK

We'll send him a fruitbcake every Christmas. Cut.
He cuts a deuce, she cuts a ten.
BAXTER

I love you, Miss Kubilek

MISS KUBELIK

You got a two, I got a ten. I win.

BAXTER

Did you hear what I said, I absolutely adore you.

MISS KUBELIK

Shut up and deal.
Billy Wilder topped this of course with the last line of Some Like It Hot, when Jerry (Jack Lemmon), hiding out from the mob in drag with a girl band, explains to his zillionaire suitor Osgood Fielding III (Joe E. Brown) that he can't marry him.
JERRY

You don't understand, Osgood. I'm a man!

OSGOOD

Well, nobody's perfect.
Subtext beats text every time.
That's love.
More >>
ABOUT
In January of 1966, when I was on the bus leaving Parris Island as a freshly-minted Marine, I looked back and thought there was at least one good thing about this departure. "No matter what happens to me for the rest of my life, no one can ever send me back to this freakin' place again."
Over forty years later, to my surprise and gratification, I'm far more closely bound to the young men of the Marine Corps and to all other dirt-eating, ground-pounding outfits than I could ever have imagined as I left Parris Island that first time. Gates of Fire is one reason. Dog-eared paperbacks of this tale of the ancient Spartans have circulated throughout platoons of U.S. troops in Iraq and Afghanistan since the first days of the invasions. E-mails come in by hundreds. Gates of Fire is on the Commandant of the Marine Corps' Reading list. It is taught at West Point and Annapolis and at the Marine Corps Basic School at Quantico; and Tides of War is on the curriculum of the Naval War College. In 2009, I launched the blog "It's the Tribes, Stupid" (which evolved into "Agora"), to help gain awareness of issues related to tribalism and the tribal mind-set in Afghanistan—with the goal of helping the Marines and soldiers on the ground better understand the different people they were facing in Afghanistan.
My father was in the Navy, and I was born in Port of Spain, Trinidad, in 1943. I graduated from Duke University in 1965. Since then, I've worked as an advertising copywriter, schoolteacher, tractor-trailer driver, bartender, oilfield roustabout and attendant in a mental hospital. I've picked fruit in Washington state, written screenplays in Tinseltown, and was homeless, living out of the back of my car with my typewriter. My struggles to earn a living as a writer (it took seventeen years to get the first paycheck) are detailed in The War of Art.
With the publication of The Legend of Bagger Vance in 1995, I became a writer of books once and for all. From there followed the historical novels Gates of Fire, Tides of War, Virtues of War, The Afghan Campaign and Killing Rommel.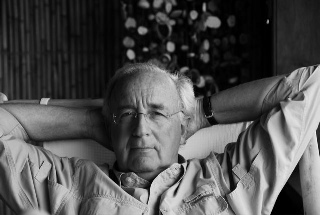 My writing philosophy is a kind of warrior code—internal rather than external—in which the enemy is identified as those forms of self-sabotage that I call "Resistance" with a capital R (in The War of Art). The technique for combating these foes can be described as "turning pro."
I believe in previous lives and the Muse—and that books and music exist before they are written and that they are propelled into material being by their own imperative to be born, via the offices of those willing servants of discipline, imagination and inspiration, whom we call artists. My conception of the artist's role is a combination of reverence for the unknowable nature of "where it all comes from" and a no-nonsense, blue-collar demystification of the process by which this mystery is approached. In other words, a paradox.
There's a recurring character in my books, named Telamon, a mercenary of ancient days. Telamon doesn't say much. He rarely gets hurt or wounded. And he never seems to age. His view of the profession of arms is a lot like my conception of art and the artist:
"It is one thing to study war, and another to live the warrior's life."