By

Callie Oettinger




Published

:

November 20, 2015

Wyck had a brilliant mind. Quick witted. Educated. Creative.

Depending on when you landed in his life, he was the next Jim Morrison, the next Mario Puzo, the next Casey Kasem, the next Babe Ruth.

During the next-Jim Morrison phase he was Molly's first boyfriend. Unlike Luther, who was his replacement years later, he was a close friend of mine, too. We discussed books and music and dreams. We thought he'd "make it" and that inspired us to want to make it, too.

Looking back . . . He was the next Ignatius J. Reilly.

If his life was a movie, this would be an oft-repeated scene:

Wyck walks into his parent's kitchen, where his mother and her friend are playing cards.

He walks in with "purpose," making a point of clearing his throat once he stops to pose, so his presence isn't in question. He's wearing his best Jim Morrison uniform (black leather pants and a white, gauzy, poet's shirt).

Wyck: I'm the Lizard King.

Wyck's mother: That's nice honey. Would you like a brownie?

His mother's line is delivered as she places down another card, not breaking to look up at Wyck.

Wyck pauses. For a heartbeat the audience expects him to scowl like all the other misunderstood twenty-something's embracing the emerging grunge movement.

Instead, he quick steps to the table, leans in, picks a brownie from the glass plate and then exits the kitchen, looking more Dennis the Menace than Lizard King, a child distracted by a treat.

I thought his parents didn't "get him" — that they underestimated his potential.

The reality?

They'd lived through 20 years of him being the next x or y or z before I entered their story — and were used to being the test audience for the various incarnations of "I'm the Lizard King" lines that went with each "next."

I thought about Wyck after reading Mark Manson's article "Screw Finding Your Passion."

Read Mark's entire post. For now, here are two slices:
Today I received approximately the 11,504th email this year from a person telling me that they don't know what to do with their life. And like all of the others, this person asked me if I had any ideas of what they could do, where they could start, where to "find their passion."

And of course, I didn't respond. Why? Because I have no fucking clue. If you don't have any idea what to do with yourself, what makes you think some jackass with a website would? I'm a writer, not a fortune teller.

***

The problem is not a lack of passion for something. The problem is productivity. The problem is perception. The problem is acceptance.

The problem is the, "Oh, well that's just not a realistic option," or "Mom and Dad would kill me if I tried to do that, they say I should be a doctor" or "That's crazy, you can't buy a BMW with the money you make doing that."

The problem isn't passion. It's never passion.

It's priorities.
ABOUT
In January of 1966, when I was on the bus leaving Parris Island as a freshly-minted Marine, I looked back and thought there was at least one good thing about this departure. "No matter what happens to me for the rest of my life, no one can ever send me back to this freakin' place again."
Over forty years later, to my surprise and gratification, I'm far more closely bound to the young men of the Marine Corps and to all other dirt-eating, ground-pounding outfits than I could ever have imagined as I left Parris Island that first time. Gates of Fire is one reason. Dog-eared paperbacks of this tale of the ancient Spartans have circulated throughout platoons of U.S. troops in Iraq and Afghanistan since the first days of the invasions. E-mails come in by hundreds. Gates of Fire is on the Commandant of the Marine Corps' Reading list. It is taught at West Point and Annapolis and at the Marine Corps Basic School at Quantico; and Tides of War is on the curriculum of the Naval War College. In 2009, I launched the blog "It's the Tribes, Stupid" (which evolved into "Agora"), to help gain awareness of issues related to tribalism and the tribal mind-set in Afghanistan—with the goal of helping the Marines and soldiers on the ground better understand the different people they were facing in Afghanistan.
My father was in the Navy, and I was born in Port of Spain, Trinidad, in 1943. I graduated from Duke University in 1965. Since then, I've worked as an advertising copywriter, schoolteacher, tractor-trailer driver, bartender, oilfield roustabout and attendant in a mental hospital. I've picked fruit in Washington state, written screenplays in Tinseltown, and was homeless, living out of the back of my car with my typewriter. My struggles to earn a living as a writer (it took seventeen years to get the first paycheck) are detailed in The War of Art.
With the publication of The Legend of Bagger Vance in 1995, I became a writer of books once and for all. From there followed the historical novels Gates of Fire, Tides of War, Virtues of War, The Afghan Campaign and Killing Rommel.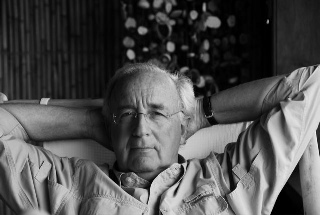 My writing philosophy is a kind of warrior code—internal rather than external—in which the enemy is identified as those forms of self-sabotage that I call "Resistance" with a capital R (in The War of Art). The technique for combating these foes can be described as "turning pro."
I believe in previous lives and the Muse—and that books and music exist before they are written and that they are propelled into material being by their own imperative to be born, via the offices of those willing servants of discipline, imagination and inspiration, whom we call artists. My conception of the artist's role is a combination of reverence for the unknowable nature of "where it all comes from" and a no-nonsense, blue-collar demystification of the process by which this mystery is approached. In other words, a paradox.
There's a recurring character in my books, named Telamon, a mercenary of ancient days. Telamon doesn't say much. He rarely gets hurt or wounded. And he never seems to age. His view of the profession of arms is a lot like my conception of art and the artist:
"It is one thing to study war, and another to live the warrior's life."