By

Steven Pressfield




Published

:

July 19, 2017

The last two weeks' posts have gotten a lot of positive response, so apparently they have struck a nerve. I confess though, as I sit down to write today's Report #3, that I'm not really sure exactly WHAT is proving so helpful. Obviously I want to stay in that vein. So, spitballing a bit, here goes …

The specific question readers might be asking right about now is, What exactly did Shawn's notes say? And, How exactly did you, Steve, respond?
The bulk of Shawn's problem with the manuscript I gave him was that I had violated conventions of the genre I was working in.
The genre, as Shawn identified it, is Redemptive Horror Thriller. The parallel works he cited were The Exorcist and Rosemary's Baby.
In other words, a story where the villain is the devil.
How had I violated the conventions of this genre? A lot of ways, but here's one, verbatim from Shawn's notes:
The trick of this sort of story, though, is to ride out the uncertainty about the true nature of the evil until "all Hell breaks loose."

So the reader gets off on the "could this really be the devil?" element long enough for them to start to believe and then…you hit them with the irrational and green goo spew like that pivotal scene in THE EXORCIST.

This is what drives the suspense in supernatural horror stories like THE EXORCIST and ROSEMARY'S BABY. The protagonists in both of those stories were victims (Father Karras in THE EXORCIST and Rosemary in ROSEMARY'S BABY) and the promise from the positioning of the stories was:

"Yes…this is a supernatural Devil! Story!"

But…

The reader and the viewer of both of those stories needed evidence, a progressive narrative build to the revelation that the devil/supernatural is real and on stage.

Remember that in THE EXORCIST, the girl was taken to all kinds of doctors and had all kinds of tests and all possible explanations were eliminated before they brought in Max Van Sydow as the last resort to save her? That's when the devil makes himself truly known…when the Exorcist arrives with Karras as his assistant.
Any of us as writers would KILL to get such incisive and helpful feedback, wouldn't we?
It is GREAT to have a really smart editor.
Okay.
How did I respond? What did I take from this?
I could see that Shawn was right. So I read the manuscript over, re-outlining it scene-by-scene, with this objective in mind: How can I spool out the revelation of the villain's identity, i.e. that he's the devil, more slowly?
The protagonist of the story is a homicide detective.
Another of Shawn's notes was that our detective wasn't doing enough detecting. Clues were falling into his lap. It was too easy for him.
This was another issue I had to address.
I wrote two more fast outline-style passes of the story. One file I called Freewheelin'. The other I named Spitballin'. I wanted to keep loose. I wanted to throw a lot of stuff against the wall and see if anything stuck.
The allied character in the story (allied with the detective) is a female rabbi named Rachel. In the manuscript I sent to Shawn, Rachel knows all the occult backstory and she knows it from the start. She knows all about the devil and what nefarious scheme he is up to. Throughout Act One and Act Two she is trying to convince the detective of this, and he is resisting, refusing to believe.
I decided that that was 100% wrong.
I could respond to Shawn's notes, I thought, by having the character of Rachel resist the detective. (The detective's name is Manning.) That would force Manning to do more detective work. It would make him a stronger character, and it would involve the reader more because she could track along with Manning as he worked to unravel the mystery.
Pretty basic stuff, right? But I've only been doing this for fifty years, so I'll give myself a pass on blowing this completely.
Anyway, here is part of the file I sent back to Shawn after having thrashed this stuff out for about four weeks:
Rethinking the character of Rachel. I'm going to change her character completely. This will be a HUGE CHANGE because its effects ripple through the whole story.

I'm gonna take your thought re Rachel's attitude and actions and turn them on their head. Instead of being the person who already knows what's happening and is trying in every scene to compel Manning to believe in it, we'll have her FLEEING from Manning, clamming up (she still knows everything but in this new version refuses to tell it), doing everything in her power NOT to tell Manning anything. So he'll have to do more detective work to find out. We'll cut the scene where Rachel appears at DivSix and delivers all the goodies about "lamed vav" and "the victims are all Jews." Manning will find these out on his own.
I spitballed a scene for Shawn. ("The Rebbe" is one of the murder victims. The devil's human-form name is "Instancer." "36RM" is short for Thirty-Six Righteous Men, a Jewish legend whose connotations include the End of Days, i.e. extinction of the human race.)
SCENE: Immediately after the murder of the Rebbe and the fleeing of Instancer (we'll keep Manning conscious and still full of fight, even though he has tussled with Instancer), he spots Rachel, outside, lurking. As soon as she sees him, she bolts. A wild French Connection-type chase ensues across Brooklyn at night that takes Manning to an encampment of the dispossessed, into which Rachel flees deeper and deeper, finally diving into a derelict "van down by the river" (obviously hers) that she flees in further, before crashing into an abutment, where Manning and Dewey overtake her, guns drawn. Manning bursts into the van's living compartment and finds it's an Obsession Chamber, packed with Rachel's computer, 36RM files, and, big as life on the wall, a blow-up photo of Instancer.

In other words, "Who the f**k are you? Who is Instancer? And how do you come to have all this shit?"
I realize that these notes and these scenes are project-specific and thus may be hard to make sense of, for the reader coming in cold. I'm featuring them in this post, however, in the hope that getting really specific will be the most helpful way to go, even if it's a bit confusing.
To recap, Shawn's notes to me made eight major points.
Today's post touches on just one of them.
But it depicts clearly, I hope, the way an editor thinks, what he's looking for when evaluating whether a story works or doesn't (in this case, the writer—me—is guilty of violating the conventions of the genre he's working in), and how he, the editor, articulates this to his writer.
Of course, you and I, if we don't have a really good editor, have to do this evaluation on our own. Very hard to do.
The specifics in this post also, I hope, show how a writer responds to his editor's notes. The big thing to keep in mind, I think, is HOW LONG it took me in this case—a full month.
This is the process.
I've gone through it, and so has Shawn, on just about every book we've worked on, with each other and with others.
It ain't easy, and it ain't pretty.
Next week: more specifics as we continue slogging through the jungle.
ABOUT
In January of 1966, when I was on the bus leaving Parris Island as a freshly-minted Marine, I looked back and thought there was at least one good thing about this departure. "No matter what happens to me for the rest of my life, no one can ever send me back to this freakin' place again."
Over forty years later, to my surprise and gratification, I'm far more closely bound to the young men of the Marine Corps and to all other dirt-eating, ground-pounding outfits than I could ever have imagined as I left Parris Island that first time. Gates of Fire is one reason. Dog-eared paperbacks of this tale of the ancient Spartans have circulated throughout platoons of U.S. troops in Iraq and Afghanistan since the first days of the invasions. E-mails come in by hundreds. Gates of Fire is on the Commandant of the Marine Corps' Reading list. It is taught at West Point and Annapolis and at the Marine Corps Basic School at Quantico; and Tides of War is on the curriculum of the Naval War College. In 2009, I launched the blog "It's the Tribes, Stupid" (which evolved into "Agora"), to help gain awareness of issues related to tribalism and the tribal mind-set in Afghanistan—with the goal of helping the Marines and soldiers on the ground better understand the different people they were facing in Afghanistan.
My father was in the Navy, and I was born in Port of Spain, Trinidad, in 1943. I graduated from Duke University in 1965. Since then, I've worked as an advertising copywriter, schoolteacher, tractor-trailer driver, bartender, oilfield roustabout and attendant in a mental hospital. I've picked fruit in Washington state, written screenplays in Tinseltown, and was homeless, living out of the back of my car with my typewriter. My struggles to earn a living as a writer (it took seventeen years to get the first paycheck) are detailed in The War of Art.
With the publication of The Legend of Bagger Vance in 1995, I became a writer of books once and for all. From there followed the historical novels Gates of Fire, Tides of War, Virtues of War, The Afghan Campaign and Killing Rommel.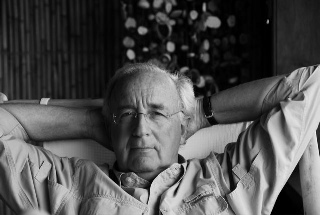 My writing philosophy is a kind of warrior code—internal rather than external—in which the enemy is identified as those forms of self-sabotage that I call "Resistance" with a capital R (in The War of Art). The technique for combating these foes can be described as "turning pro."
I believe in previous lives and the Muse—and that books and music exist before they are written and that they are propelled into material being by their own imperative to be born, via the offices of those willing servants of discipline, imagination and inspiration, whom we call artists. My conception of the artist's role is a combination of reverence for the unknowable nature of "where it all comes from" and a no-nonsense, blue-collar demystification of the process by which this mystery is approached. In other words, a paradox.
There's a recurring character in my books, named Telamon, a mercenary of ancient days. Telamon doesn't say much. He rarely gets hurt or wounded. And he never seems to age. His view of the profession of arms is a lot like my conception of art and the artist:
"It is one thing to study war, and another to live the warrior's life."