By

Steven Pressfield




Published

:

March 22, 2017

When we finish any work of art or commerce and expose it to judgment in the real world, three things can happen:
Everybody loves it.
Everybody hates it.
Nobody notices that it even exists.
[Continuing our exploration of the Professional Mindset, let me repurpose this post that first ran about four years ago.]
All three present you and me as writers and artists with major emotional challenges, and all three drive deep into the most profound questions of life and work.
It will not surprise you, I suspect, if I say that all three responses are impostors. None of them is real, and none should be taken to heart by a writer or artist working from the Professional Mindset.
When we labor in any field that combines art and commerce, we're working on two tracks.
Track One, the Muse Track, represents our work in its most authentic, true-to-itself and true-to-our-own-heart expression.
Track Two, the Commercial Track, represents the response our work gets in the marketplace. In other words, points 1-2-3 above.
Track Two counts for putting bread on the table and getting our kids through college.
Track One counts for our artistic soul.
The problem with Track Two is it also represents the siren song of riches and fame, or at least applause and recognition in the real world.
Two weeks ago my friend Paul finished writing a TV pilot. It was the first time he had completed a project from FADE IN to THE END. He turned it in to a friend who is a serious producer and who was anxious to see it. Almost immediately Paul's spirits went over a cliff.
He became depressed, anxious, irritable. He couldn't sleep. He stopped working. He was waiting to hear his producer friend's response.
In other words, Paul let himself get sucked over onto Track Number Two, the Commercial Track.
Hollywood (or any big-buzz field like music, publishing, games, software) is a Rorschach test for the soul.
Can we keep our focus where it should be? Can we find our real self and stand up for it? The dream of success/glamour/megabucks is like dark matter. It exerts a gravitational pull that's so strong it can haul even the best us down into a black hole.
What's the antidote?
The antidote is remaining grounded on Track Number One. There's nothing wrong with success. I hold no beef with cashing a check or getting a parking place with your name on it. But don't confuse Track #1 with Track #2.
While Paul was pacing his living room wondering if he could really kill himself by leaping out a second-story window, the real truth of his situation was this:
He had completed his first serious full-length piece of work.
He had shipped.
He had delivered.
His creative momentum was high.
The Muse was with him.
On Track #1, Paul was rolling!
My advice to Paul (which he did not heed, by the way) was to start another project immediately. In fact Paul was already working on Project #2. But he had stopped.
Why is it so important to keep working?
Because when we finish a project and wait around breathlessly to learn the world's response to it, we have planted our butts squarely on Track #2. Track #2 means evaluating our work and defining our artistic selves by the opinion of others. (What Shawn calls 3PV, Third Party Validation.)
Nothing good ever came from 3PV. Even success can be bad, viewed through the prism of 3PV. How many people have won Oscars in one year, only to vanish into rehab the next? And failure? Ask Van Gogh how that worked out for him.
And yet: how was Vincent doing on Track #1? He was red-hot. True, a century ahead of his time, but still smokin' hot.
The ideal position for an artist of authenticity is when Track #1 and Track #2 coincide. When he is working his real stuff—and that stuff finds a welcome in the wider world.
When an artist's voice is true enough to his own heart and authentic enough to his own vision, Track #1 pulls Track #2 over to it. Bruce Springsteen. Bob Dylan. Hunter S. Thompson.
But we lose our way when we overvalue Track #2 at the expense of Track #1. "Sunflowers" was just as great in 1889, when Van Gogh couldn't give it away, as it was in 1987 when it sold for $39.9 million.
Whatever Track #2 fate awaits Paul's pilot, he knocked it out of the park on Track #1.
ABOUT
In January of 1966, when I was on the bus leaving Parris Island as a freshly-minted Marine, I looked back and thought there was at least one good thing about this departure. "No matter what happens to me for the rest of my life, no one can ever send me back to this freakin' place again."
Over forty years later, to my surprise and gratification, I'm far more closely bound to the young men of the Marine Corps and to all other dirt-eating, ground-pounding outfits than I could ever have imagined as I left Parris Island that first time. Gates of Fire is one reason. Dog-eared paperbacks of this tale of the ancient Spartans have circulated throughout platoons of U.S. troops in Iraq and Afghanistan since the first days of the invasions. E-mails come in by hundreds. Gates of Fire is on the Commandant of the Marine Corps' Reading list. It is taught at West Point and Annapolis and at the Marine Corps Basic School at Quantico; and Tides of War is on the curriculum of the Naval War College. In 2009, I launched the blog "It's the Tribes, Stupid" (which evolved into "Agora"), to help gain awareness of issues related to tribalism and the tribal mind-set in Afghanistan—with the goal of helping the Marines and soldiers on the ground better understand the different people they were facing in Afghanistan.
My father was in the Navy, and I was born in Port of Spain, Trinidad, in 1943. I graduated from Duke University in 1965. Since then, I've worked as an advertising copywriter, schoolteacher, tractor-trailer driver, bartender, oilfield roustabout and attendant in a mental hospital. I've picked fruit in Washington state, written screenplays in Tinseltown, and was homeless, living out of the back of my car with my typewriter. My struggles to earn a living as a writer (it took seventeen years to get the first paycheck) are detailed in The War of Art.
With the publication of The Legend of Bagger Vance in 1995, I became a writer of books once and for all. From there followed the historical novels Gates of Fire, Tides of War, Virtues of War, The Afghan Campaign and Killing Rommel.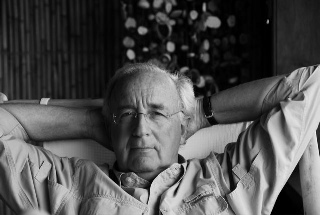 My writing philosophy is a kind of warrior code—internal rather than external—in which the enemy is identified as those forms of self-sabotage that I call "Resistance" with a capital R (in The War of Art). The technique for combating these foes can be described as "turning pro."
I believe in previous lives and the Muse—and that books and music exist before they are written and that they are propelled into material being by their own imperative to be born, via the offices of those willing servants of discipline, imagination and inspiration, whom we call artists. My conception of the artist's role is a combination of reverence for the unknowable nature of "where it all comes from" and a no-nonsense, blue-collar demystification of the process by which this mystery is approached. In other words, a paradox.
There's a recurring character in my books, named Telamon, a mercenary of ancient days. Telamon doesn't say much. He rarely gets hurt or wounded. And he never seems to age. His view of the profession of arms is a lot like my conception of art and the artist:
"It is one thing to study war, and another to live the warrior's life."