By

Shawn Coyne




Published

:

February 27, 2015

[Join www.storygrid.com to read more of Shawn's Stuff]

Like you, every Wednesday morning, with my first cup of coffee in hand, I sit down and read Steve's WRITING WEDNESDAY posts.

His recent series on "killer scenes" and the ways in which he constructs his work have been off the charts for me.  Here's what I love about them:
They're personal…Steve does not pretend to be speaking from Mount Olympus.  He's just giving us the straight dope about how he keeps his writing engines primed and working at peak efficiency. I was reminded of the importance of these idiosyncratic methodologies we all develop from Jeremy Anderberg's Twitter post that linked to Hemingway's interview in the Paris Review.  If Papa was timid talking about his process, fearful that to talk about it is to dissipate its magic, you know this stuff ain't for the faint hearted.
They're Meta-entertaining.  I love reading about how people create things.  What went through their minds.  How they solve problems.  It's the classic "origin story" Subgenre of the Performance Genre.  Which as you know has the core value of Honor/Shame.  The trick is to honor your process, not to degrade or cheese it up for profit.  You've got to be truthful. And yes, as Steve proves over and over again, you can write about writing with honor.
They're Inspiring.  I'm an editor/Right Brain kind of writer.  What that means is that I want to create a lot of little boxes or units of story, fill them up, polish them and then link them all together.  I start from the structural point of view.  That's what makes me comfortable.
Reading about how Steve does it from the Left Side of the brain takes away a lot of the terror I've associated with the Muse.  I'm the kind of person who thinks the Muse has no interest in me.  I'm a blue-collar worker just banging out the word count and then getting out the sander after I've got some knotty pine to smooth.
It's obvious that Steve does not do anything of the sort that I do.  He does not construct his stories so much as he tunes in and listens to his inner word whisperer.  He then pulls out the meaning of the messages that come to him from the great unknown.
Of course he's a pro, though.  He wears the same blue-collar I do.
He knows all of the stuff I know (more even) so he organizes the messages in a general/global structure that aligns perfectly with Story nerd systems like mine.  He knows he needs inciting incidents, progressive complications, crises, climaxes and resolutions in every scene he writes etc., but instead of working to fill up boxes, he thinks about the whole trunk first.
I find his technique terrifying.
If I can't label something and put it inside a methodology, I just as soon toss it in the trash can.  But after having read Steve's Killer Scenes series, I feel better.  I'm more open to the quantum soup.  I'm not so quick to toss out a phrase that somehow jumps into my brain.  Now I'm putting them in little folders to marinate.
Which brings me to the title of this post…TOO OLD FOR HEROES.
More >>
ABOUT
In January of 1966, when I was on the bus leaving Parris Island as a freshly-minted Marine, I looked back and thought there was at least one good thing about this departure. "No matter what happens to me for the rest of my life, no one can ever send me back to this freakin' place again."
Over forty years later, to my surprise and gratification, I'm far more closely bound to the young men of the Marine Corps and to all other dirt-eating, ground-pounding outfits than I could ever have imagined as I left Parris Island that first time. Gates of Fire is one reason. Dog-eared paperbacks of this tale of the ancient Spartans have circulated throughout platoons of U.S. troops in Iraq and Afghanistan since the first days of the invasions. E-mails come in by hundreds. Gates of Fire is on the Commandant of the Marine Corps' Reading list. It is taught at West Point and Annapolis and at the Marine Corps Basic School at Quantico; and Tides of War is on the curriculum of the Naval War College. In 2009, I launched the blog "It's the Tribes, Stupid" (which evolved into "Agora"), to help gain awareness of issues related to tribalism and the tribal mind-set in Afghanistan—with the goal of helping the Marines and soldiers on the ground better understand the different people they were facing in Afghanistan.
My father was in the Navy, and I was born in Port of Spain, Trinidad, in 1943. I graduated from Duke University in 1965. Since then, I've worked as an advertising copywriter, schoolteacher, tractor-trailer driver, bartender, oilfield roustabout and attendant in a mental hospital. I've picked fruit in Washington state, written screenplays in Tinseltown, and was homeless, living out of the back of my car with my typewriter. My struggles to earn a living as a writer (it took seventeen years to get the first paycheck) are detailed in The War of Art.
With the publication of The Legend of Bagger Vance in 1995, I became a writer of books once and for all. From there followed the historical novels Gates of Fire, Tides of War, Virtues of War, The Afghan Campaign and Killing Rommel.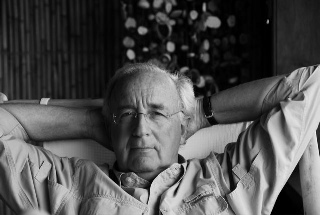 My writing philosophy is a kind of warrior code—internal rather than external—in which the enemy is identified as those forms of self-sabotage that I call "Resistance" with a capital R (in The War of Art). The technique for combating these foes can be described as "turning pro."
I believe in previous lives and the Muse—and that books and music exist before they are written and that they are propelled into material being by their own imperative to be born, via the offices of those willing servants of discipline, imagination and inspiration, whom we call artists. My conception of the artist's role is a combination of reverence for the unknowable nature of "where it all comes from" and a no-nonsense, blue-collar demystification of the process by which this mystery is approached. In other words, a paradox.
There's a recurring character in my books, named Telamon, a mercenary of ancient days. Telamon doesn't say much. He rarely gets hurt or wounded. And he never seems to age. His view of the profession of arms is a lot like my conception of art and the artist:
"It is one thing to study war, and another to live the warrior's life."