By

Steven Pressfield




Published

:

January 17, 2018

Let's take a break today in this series on Villains and turn to the guy or girl opposite him: the Hero.

We've been saying in these posts that the Antagonist needs to be given a great Villain Speech, a moment when he or she gets to try to convince us that greed is good or that we can't handle the truth.

The hero needs her moment to shine too.

It's our job as writers, yours and mine, to serve up some juicy, soul-defining, U.S. Prime dialogue for our protagonist to deliver.

Here's one of my faves from the movie Fury, the Brad Pitt-starrer about a lone American tank driving deep into Nazi Germany in the closing weeks of WWII. The crisis comes when the tank hits a mine and becomes incapacitated just as a battalion of SS infantry is tramping down the road in its direction.

Do our heroes take off into the bushes and live to fight another day? Or do they make a stand, knowing it will cost them their lives?

Brad Pitt as the tank commander makes his own decision. "This is home," he says, setting a palm on the turret of the tank. The other crewmen (Michael Pena, Jon Bernthal, Logan Lerman, Shia Labeouf) at first reluctantly, then with mounting spirit, join him. Each takes his last-stand position inside the tank, waiting for the SS, who are now only a couple of hundred yards away.

It's a classic hero moment, the hour when the ultimate sacrifice is imminent, when ordinary men stand at the threshold of rendering themselves extraordinary.

The director/writer David Ayer gives the critical lines to Shia Laboeuf (who does a fantastic job delivering them) as Boyd "Bible" Swan, the tank's gunner. Swan speaks quietly, in the steel intimacy of the tank's interior, to his comrades, each of whom is isolated inside his own skull, awaiting the terminal moments of his life.
SHIA LEBOEUF

There's a Bible verse I think about sometimes.

Many times. It goes, 'And I heard the voice of the Lord

saying, Who shall I send, and who will go for us? Then

I said, Here am I. Send me.'
The sacrifice of one's own life (or happiness or future prospects or whatever) for the good of others is the defining act of the hero.
Have you seen The Wild Bunch? I watch it once a year at least, just to remind myself what great storytelling and filmmaking is all about. The hero speech in that movie (screenplay by Walon Green and Sam Peckinpah) is two words, delivered by Warren Oates as Lyle Gortch.
Here's the setting:
The surviving members of the outlaw band known as the Wild Bunch (William Holden, Ernest Borgnine, Ben Johnson, and Warren Oates) have seen their companion Angel (Jaime Sanchez) captured and tortured by the evil generalissimo Mapache (Emilio Fernandez) and been unable to rescue him because of the overwhelming numbers of Mapache's soldiers.
The Bunch pass the night in a debauch in the village where Mapache and his troops (and Angel, still in captivity) have laid up. Waking in the morning, William Holden, the leader of the Bunch, pays the poor young mother with whom he has passed the night.
Plainly he is thinking about Angel and how he and his companions have failed to deliver him.
Then something changes in Holden's face.
Plainly he has come to some kind of resolve.
Note: not a word of dialogue has been spoken so far.
Holden crosses to the room in which Warren Oates and Ben Johnson are squabbling over payment with the woman they've spent the night with. Holden appears in the doorway. Ben and Warren look up. Warren sees the expression on Holden's face. He squints, as if thinking to himself, Is Holden thinking what I think he's thinking?
One more look convinces Warren.
His own expression hardens into the identical resolve.
WARREN OATES

Why not?
That's it.
That's the hero speech.
The three outlaws step outside into the sun, where the final member of the Bunch, Ernest Borgnine, sits in the dust with his back against the adobe wall of the house, whittling a stick.
Again without dialogue, the companions' eyes meet each other. Borgnine barks a curt laugh, plunges his stick point-first into the dust, and rises eagerly to his feet.
The final scene of course is these four taking on Mapache's hundreds and giving their lives in the process.
I've seen, in e-mails and in the Comments section of this blog, these posts referred to as "tips."
I hate that.
What I hope these posts constitute are the collective tool kit of a writer. Today's post is one I use in every book or movie I write, as are all the other posts in this series and all others.
It's a box I check to help myself find my story.
"Do I have a hero's speech? Have I given my protagonist a moment, even if it's silent, when he or she gets to define the action they will take and explain the reasons why?"
If I don't, alarm bells go off in my head.
"Take care of this, Steve. Figure it out and do it."
More >>
ABOUT
In January of 1966, when I was on the bus leaving Parris Island as a freshly-minted Marine, I looked back and thought there was at least one good thing about this departure. "No matter what happens to me for the rest of my life, no one can ever send me back to this freakin' place again."
Over forty years later, to my surprise and gratification, I'm far more closely bound to the young men of the Marine Corps and to all other dirt-eating, ground-pounding outfits than I could ever have imagined as I left Parris Island that first time. Gates of Fire is one reason. Dog-eared paperbacks of this tale of the ancient Spartans have circulated throughout platoons of U.S. troops in Iraq and Afghanistan since the first days of the invasions. E-mails come in by hundreds. Gates of Fire is on the Commandant of the Marine Corps' Reading list. It is taught at West Point and Annapolis and at the Marine Corps Basic School at Quantico; and Tides of War is on the curriculum of the Naval War College. In 2009, I launched the blog "It's the Tribes, Stupid" (which evolved into "Agora"), to help gain awareness of issues related to tribalism and the tribal mind-set in Afghanistan—with the goal of helping the Marines and soldiers on the ground better understand the different people they were facing in Afghanistan.
My father was in the Navy, and I was born in Port of Spain, Trinidad, in 1943. I graduated from Duke University in 1965. Since then, I've worked as an advertising copywriter, schoolteacher, tractor-trailer driver, bartender, oilfield roustabout and attendant in a mental hospital. I've picked fruit in Washington state, written screenplays in Tinseltown, and was homeless, living out of the back of my car with my typewriter. My struggles to earn a living as a writer (it took seventeen years to get the first paycheck) are detailed in The War of Art.
With the publication of The Legend of Bagger Vance in 1995, I became a writer of books once and for all. From there followed the historical novels Gates of Fire, Tides of War, Virtues of War, The Afghan Campaign and Killing Rommel.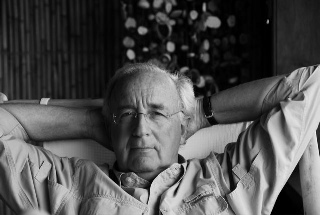 My writing philosophy is a kind of warrior code—internal rather than external—in which the enemy is identified as those forms of self-sabotage that I call "Resistance" with a capital R (in The War of Art). The technique for combating these foes can be described as "turning pro."
I believe in previous lives and the Muse—and that books and music exist before they are written and that they are propelled into material being by their own imperative to be born, via the offices of those willing servants of discipline, imagination and inspiration, whom we call artists. My conception of the artist's role is a combination of reverence for the unknowable nature of "where it all comes from" and a no-nonsense, blue-collar demystification of the process by which this mystery is approached. In other words, a paradox.
There's a recurring character in my books, named Telamon, a mercenary of ancient days. Telamon doesn't say much. He rarely gets hurt or wounded. And he never seems to age. His view of the profession of arms is a lot like my conception of art and the artist:
"It is one thing to study war, and another to live the warrior's life."