By

Steven Pressfield




Published

:

December 5, 2016

Oops, I lied again.

I promised we'd get into the Seven Principles of using your real life in fiction. But again I'm gonna jump forward to a critical corollary:
Don't be afraid to fictionalize.
I used to be. I thought if I made stuff up, that would be lying. Being untrue to real life.
I would read Henry Miller and Ernest Hemingway and think, "See, they're telling the truth! Everything they're writing is real! That's why it works! That's what I've gotta do!"
Of course they were fictionalizing.
They were exaggerating.
They were heightening reality.
The trick was they were doing it so skillfully, I couldn't tell. You mean Henry Miller didn't really do that thing with the carrot in the doorway in Brooklyn?
Even if he did, who cares?
The truth is not the truth.
Fiction is the truth.
Remember, going back to our first principle of using your real life in fiction:
            Make the internal external.
Why do we as writers do this? To involve the reader. In my real life, during the era of The Knowledge, I was allowing my inner demons of guilt, regret, and self-loathing to keep me from coming together as a real working writer.
The reader is not going to sit still for that.
It's too interior.
It's too bornig.
The answer:
            Make sh*t up.
Was I really beaten up by gangsters at three in the morning in the wetlands near Glen Island Casino? Was my boss Marvin Bablik really honored with a gala at the Waldorf-Astoria? Did my wife really fire seven shots from a nickel-plated .45 into the rear end of a vehicle loaded with Haitian assassins?
No, but all of those actions were on-theme. They all could have happened and should have happened within the invented reality of the story. And all of them are explicit statements of the parallel interior redemption narratives of the two central characters.
The rule is
          You can fictionalize, but only to make the internal external.
Or put another way:
           You may fictionalize only on-theme.
The Sun Also Rises is one of greatest pieces of American fiction ever. If you haven't read it, please do. (We'll give Hemingway a pass on his pages of anti-Semitism, homophobia, etc.)
How much of the book is "true?" My guess is 97.8%.
For sure, Hemingway hung out at the Select, the Dome, the Deux Magots. For sure he was in the First World War. For sure he traveled with friends, post-war, to Biarritz and San Sebastian and Pamplona. The bars, the bull fights, the countryside, the fishing streams, I'm sure they're exactly as he described them in The Sun Also Rises. The Lost Generation emptiness and ennui, the hangovers, the hipper-than-thou humor, the avoidance of all topics of seriousness, the habitual drunkenness … I'm sure these are spot-on, down to the English expat slang and the details of the men's and ladies' wardrobe. Hemingway's friends in the book are either real or easily-recognized composites. He probably knew someone exactly like Lady Brett Ashley and probably was in love with her and she with him.
All that is "real." It's all "true."
What's fiction?
One critical component: that the protagonist, Jake Barnes, i.e. Hemingway, had his manhood shot away in the war.
I know, I know. It's been done before. Other characters in fiction have suffered similar emasculating wounds.
But nothing ever matched the power of that fictional incapacitation, because it told the whole story in one stroke.
That war-spawned impotence defined Hemingway's generation as surely as "I can't get no satisfaction" defined a later one.
What does that mean for you and me as we begin the novel that's based on our real life?
It means
 Don't hesitate to go beyond the truth.
Identify its essence, in your character-in-the-story and in the story itself.
Then heighten that truth.
Make it pop, so that we the readers feel it and get it.
Make the internal external.
Don't be afraid to make sh*t up.
ABOUT
In January of 1966, when I was on the bus leaving Parris Island as a freshly-minted Marine, I looked back and thought there was at least one good thing about this departure. "No matter what happens to me for the rest of my life, no one can ever send me back to this freakin' place again."
Over forty years later, to my surprise and gratification, I'm far more closely bound to the young men of the Marine Corps and to all other dirt-eating, ground-pounding outfits than I could ever have imagined as I left Parris Island that first time. Gates of Fire is one reason. Dog-eared paperbacks of this tale of the ancient Spartans have circulated throughout platoons of U.S. troops in Iraq and Afghanistan since the first days of the invasions. E-mails come in by hundreds. Gates of Fire is on the Commandant of the Marine Corps' Reading list. It is taught at West Point and Annapolis and at the Marine Corps Basic School at Quantico; and Tides of War is on the curriculum of the Naval War College. In 2009, I launched the blog "It's the Tribes, Stupid" (which evolved into "Agora"), to help gain awareness of issues related to tribalism and the tribal mind-set in Afghanistan—with the goal of helping the Marines and soldiers on the ground better understand the different people they were facing in Afghanistan.
My father was in the Navy, and I was born in Port of Spain, Trinidad, in 1943. I graduated from Duke University in 1965. Since then, I've worked as an advertising copywriter, schoolteacher, tractor-trailer driver, bartender, oilfield roustabout and attendant in a mental hospital. I've picked fruit in Washington state, written screenplays in Tinseltown, and was homeless, living out of the back of my car with my typewriter. My struggles to earn a living as a writer (it took seventeen years to get the first paycheck) are detailed in The War of Art.
With the publication of The Legend of Bagger Vance in 1995, I became a writer of books once and for all. From there followed the historical novels Gates of Fire, Tides of War, Virtues of War, The Afghan Campaign and Killing Rommel.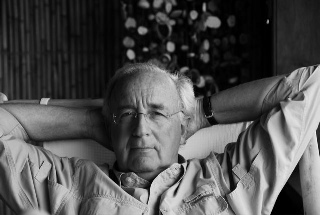 My writing philosophy is a kind of warrior code—internal rather than external—in which the enemy is identified as those forms of self-sabotage that I call "Resistance" with a capital R (in The War of Art). The technique for combating these foes can be described as "turning pro."
I believe in previous lives and the Muse—and that books and music exist before they are written and that they are propelled into material being by their own imperative to be born, via the offices of those willing servants of discipline, imagination and inspiration, whom we call artists. My conception of the artist's role is a combination of reverence for the unknowable nature of "where it all comes from" and a no-nonsense, blue-collar demystification of the process by which this mystery is approached. In other words, a paradox.
There's a recurring character in my books, named Telamon, a mercenary of ancient days. Telamon doesn't say much. He rarely gets hurt or wounded. And he never seems to age. His view of the profession of arms is a lot like my conception of art and the artist:
"It is one thing to study war, and another to live the warrior's life."