By

Steven Pressfield




Published

:

September 20, 2017

I was having dinner a few nights ago with a young screenwriter and a big-time Hollywood literary agent. The writer was joking that her career had stalled on the "C" list.

"If I had you for a year," the agent said, "I'd get you high on the 'A' list."

The agent was serious, and a serious discussion followed. Most of the talk centered on the politics of career advancement. When I got home, though, I found my thoughts migrating to the craft aspects.

How would a true, knowledgeable mentor elevate a talented writer's career? How would he advance it one level or two levels higher? What aspects of craft would he accentuate? What changes would he insist upon?

Step One, I think, would be to really hold the writer's feet to the fire.

The mentor would make the writer truly accountable to her own talent.
Conception of project.
The young writer comes in with an idea for a movie or a book.
Is the idea good enough?
Is it big enough?
Is it truly original?
Will it attract "A"-level talent? Director? Actors?
The agent/mentor would insist that the writer consider alternatives and variations on the idea. Is Version One the absolute best way to do this? "Okay, the story is about giant spiders invading from Mars. Would crustaceans be better? How about if they came from Venus?"
Execution of story.
In my own days as a screenwriter, my agents (and they were all good) would, with only minor tweaks, pretty much accept the draft I gave them. That was the version they took out and tried to sell.
Looking back, they should have pushed me harder.
I have another friend, a literary agent who runs her own boutique agency, a really good one. She does exactly that with her clients. She sends them back to the drawing board over and over.
Our theoretical mentor should be just as hard on his young, talented writer.
"You've told the story as an action adventure from the female scientist's point of view. Is this the best way? What alternatives have you considered? Why did you reject those?"
Maximization of character drama.
"Have we plumbed the detective's dilemma deeply enough? He's in love with the lady scientist but he's conflicted because he has a pet tarantula at home and he finds himself relating sympathetically to the spiders. How can we deepen this issue and make it play most dramatically in the climax?"
Why, in today's post, am I asking these questions?
Because they apply 100% to our ongoing (sorry, I can't stop) series, "Reports from the Trenches."
In other words, they're the same questions you and I have to ask ourselves when the first draft of our novel or screenplay goes south.
We need to be our own mentors, our own agents, our own editors.
We have to hold our own feet to the fire.
Have we settled (we must ask ourselves) for the First Level version of our story, of our execution, of our characters? Did we grab the first idea and run with it?
Our mentor/agent/editor would force us to be accountable. He or she would demand that we push on to Level Two and Level Three and beyond.
Which brings me to subject of Resistance.
If I were writing The War of Art again today, I'd add a section on the subject of Micro Resistance.
Macro Resistance is the global kind. It's the self-sabotage that stops us from doing our work, period.
But many of us have beaten that monster. We can sit down. We can bang out the pages.
But Micro Resistance is sabotaging those pages.
Micro Resistance strikes inside the book or screenplay. We're working, but we're not working deeply enough. We're settling. We're not pushing the action, we're not considering enough alternatives, we're not demanding that scenes and sequences and dramatic relationships extract the last bit of juice from their potential.
Micro Resistance is what's been kicking my butt on this re-do I'm working on.
Why have I not pushed deeply enough?
Because it's hard work.
It's painful.
It's risky.
I've avoided the effort out of fear of failure.
I've accepted stuff that a more mentally-tough writer would have rejected.
Resistance, you and I must never forget, is constant and unrelenting.
It fights us in every phrase and every sentence.
It always wants us to settle for the easy, the shallow, the first level.
Do you have that agent, that mentor, that editor who will force you to be true to your talent?
If you do, you're incredibly lucky.
But you and I need to cultivate that mentor inside our own heads.
We're the writers. Accountability for our work lies with us.
We have to be that agent/mentor/editor ourselves.
ABOUT
In January of 1966, when I was on the bus leaving Parris Island as a freshly-minted Marine, I looked back and thought there was at least one good thing about this departure. "No matter what happens to me for the rest of my life, no one can ever send me back to this freakin' place again."
Over forty years later, to my surprise and gratification, I'm far more closely bound to the young men of the Marine Corps and to all other dirt-eating, ground-pounding outfits than I could ever have imagined as I left Parris Island that first time. Gates of Fire is one reason. Dog-eared paperbacks of this tale of the ancient Spartans have circulated throughout platoons of U.S. troops in Iraq and Afghanistan since the first days of the invasions. E-mails come in by hundreds. Gates of Fire is on the Commandant of the Marine Corps' Reading list. It is taught at West Point and Annapolis and at the Marine Corps Basic School at Quantico; and Tides of War is on the curriculum of the Naval War College. In 2009, I launched the blog "It's the Tribes, Stupid" (which evolved into "Agora"), to help gain awareness of issues related to tribalism and the tribal mind-set in Afghanistan—with the goal of helping the Marines and soldiers on the ground better understand the different people they were facing in Afghanistan.
My father was in the Navy, and I was born in Port of Spain, Trinidad, in 1943. I graduated from Duke University in 1965. Since then, I've worked as an advertising copywriter, schoolteacher, tractor-trailer driver, bartender, oilfield roustabout and attendant in a mental hospital. I've picked fruit in Washington state, written screenplays in Tinseltown, and was homeless, living out of the back of my car with my typewriter. My struggles to earn a living as a writer (it took seventeen years to get the first paycheck) are detailed in The War of Art.
With the publication of The Legend of Bagger Vance in 1995, I became a writer of books once and for all. From there followed the historical novels Gates of Fire, Tides of War, Virtues of War, The Afghan Campaign and Killing Rommel.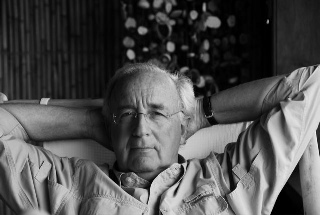 My writing philosophy is a kind of warrior code—internal rather than external—in which the enemy is identified as those forms of self-sabotage that I call "Resistance" with a capital R (in The War of Art). The technique for combating these foes can be described as "turning pro."
I believe in previous lives and the Muse—and that books and music exist before they are written and that they are propelled into material being by their own imperative to be born, via the offices of those willing servants of discipline, imagination and inspiration, whom we call artists. My conception of the artist's role is a combination of reverence for the unknowable nature of "where it all comes from" and a no-nonsense, blue-collar demystification of the process by which this mystery is approached. In other words, a paradox.
There's a recurring character in my books, named Telamon, a mercenary of ancient days. Telamon doesn't say much. He rarely gets hurt or wounded. And he never seems to age. His view of the profession of arms is a lot like my conception of art and the artist:
"It is one thing to study war, and another to live the warrior's life."