By

Steven Pressfield




Published

:

February 22, 2017

I've quoted Dan Sullivan before and I'm gonna do it again. Do you know him? He's the founder and CEO of Strategic Coach and one of the great mentors to entrepreneurs in the world. So, in keeping with this series on the Professional Mindset, let me rip off a few more of his ideas for you. (Thanks, Dan!)

Dan tells the story that when he was in the army stationed in Korea, one of his jobs was putting together shows for the troops. Frank Sinatra came over one time. Dan studied him carefully and, as he says,
One of the things I learned was that Frank Sinatra does not move pianos.
Frank has other guys who do that. Frank does only two things, Dan says.
Frank Sinatra sings, and he prepares to sing. That's it.
Dan has a concept he calls "Unique Ability." This, he explains, is the entrepreneur's gift. It's her singular talent, the one thing that she brings to her business that nobody else can bring.
Steve Jobs had a Unique Ability.
Seth Godin has it.
Shawn has it.
You have it too. In many ways your job as a writer or an artist is to find out what your unique ability is and then organize your day, your month, and your year in such a way that you maximize your time exercising your unique ability and minimize or outsource everything else.
When I was in Israel researching The Lion's Gate, I interviewed a number of people who had been close to Moshe Dayan, the great Israeli general and Minister of Defense. I heard over and over that Dayan used to say, "I don't want to do anything that somebody else can do."
In other words, Dayan brought something unique to the table. No doubt it was hard to define. It was an intangible. Vision, perhaps. Charisma. Whatever it was, he understood it and so did everyone around him.
His soldiers did not want Moshe Dayan to move pianos. If he tried to move a piano, his officers would have tackled him and dragged him off the stage. They wanted Dayan to command, to do what he could do that nobody else could do.
Dan Sullivan, when he speaks of unique ability, is not thinking specifically of writers or artists, he's thinking of entrepreneurs. He's thinking of Larry Ellison or Sergey Brin or Steve Jobs. But the concept applies, I believe, more to writers and artists than to anybody.
Stephen King has Unique Ability.
So does Toni Morrison.
And Tom Wolfe and Harper Lee and J.D. Salinger.
Each of them brings something to the party that nobody else can bring.
I read somewhere that we all should find that one thing that we can do better than anyone else in the world. When I first heard that, I thought, "That's a bit grandiose, isn't it? What could we possibly do that fifty thousand other people couldn't do better?"
But I was wrong.
I have something, maybe more than one thing, that I can do better than anyone else in the world. So does my friend Randy and my friend Victoria. So do you.
My friend Mike just showed me a manuscript he's been working on for five years. The pile of pages was a foot high. Mike's book had created an entire world, down to the most minute details. He was, in the arena he had envisioned and brought to life, the best in the world. He was Frank Sinatra.
As writers and artists, our unique ability is our voice. Our peculiar, idiosyncratic point of view. Our sense of humor, our sense of irony, our one of a kind vision of the world.
Don't feel bad if you're twenty years old or forty years old and you're saying to yourself, "I don't know what my unique voice is."
The truth is we don't know what our voice is until we sing once, and sing again, and sing again and again.
I've said before that I had no idea what books would come out of me until they came, and when they did, I was more surprised by them than anybody.
Our voice is there already.
We were born with it.
Our Muse knows it, even if we (so far) don't.
We reveal it to ourselves and to the world through work. By following our creative heart and seeing what comes out.
The Professional Mindset is about NOT moving pianos. It's about finding that unique voice that is ours alone.
Frank Sinatra sings, and he prepares to sing.
That's it.
ABOUT
In January of 1966, when I was on the bus leaving Parris Island as a freshly-minted Marine, I looked back and thought there was at least one good thing about this departure. "No matter what happens to me for the rest of my life, no one can ever send me back to this freakin' place again."
Over forty years later, to my surprise and gratification, I'm far more closely bound to the young men of the Marine Corps and to all other dirt-eating, ground-pounding outfits than I could ever have imagined as I left Parris Island that first time. Gates of Fire is one reason. Dog-eared paperbacks of this tale of the ancient Spartans have circulated throughout platoons of U.S. troops in Iraq and Afghanistan since the first days of the invasions. E-mails come in by hundreds. Gates of Fire is on the Commandant of the Marine Corps' Reading list. It is taught at West Point and Annapolis and at the Marine Corps Basic School at Quantico; and Tides of War is on the curriculum of the Naval War College. In 2009, I launched the blog "It's the Tribes, Stupid" (which evolved into "Agora"), to help gain awareness of issues related to tribalism and the tribal mind-set in Afghanistan—with the goal of helping the Marines and soldiers on the ground better understand the different people they were facing in Afghanistan.
My father was in the Navy, and I was born in Port of Spain, Trinidad, in 1943. I graduated from Duke University in 1965. Since then, I've worked as an advertising copywriter, schoolteacher, tractor-trailer driver, bartender, oilfield roustabout and attendant in a mental hospital. I've picked fruit in Washington state, written screenplays in Tinseltown, and was homeless, living out of the back of my car with my typewriter. My struggles to earn a living as a writer (it took seventeen years to get the first paycheck) are detailed in The War of Art.
With the publication of The Legend of Bagger Vance in 1995, I became a writer of books once and for all. From there followed the historical novels Gates of Fire, Tides of War, Virtues of War, The Afghan Campaign and Killing Rommel.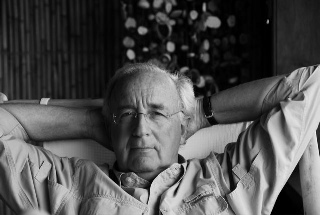 My writing philosophy is a kind of warrior code—internal rather than external—in which the enemy is identified as those forms of self-sabotage that I call "Resistance" with a capital R (in The War of Art). The technique for combating these foes can be described as "turning pro."
I believe in previous lives and the Muse—and that books and music exist before they are written and that they are propelled into material being by their own imperative to be born, via the offices of those willing servants of discipline, imagination and inspiration, whom we call artists. My conception of the artist's role is a combination of reverence for the unknowable nature of "where it all comes from" and a no-nonsense, blue-collar demystification of the process by which this mystery is approached. In other words, a paradox.
There's a recurring character in my books, named Telamon, a mercenary of ancient days. Telamon doesn't say much. He rarely gets hurt or wounded. And he never seems to age. His view of the profession of arms is a lot like my conception of art and the artist:
"It is one thing to study war, and another to live the warrior's life."