By

Steven Pressfield




Published

:

May 20, 2015

Writers are always obsessing about "narrative drive." We know what it means. It's the propulsive, page-turning momentum that we all hope to generate in our readers.

But how do we create narrative drive?
A priest, a rabbi, and an alligator walk into a bar …
That's narrative drive.
There's no way you and I are not gonna stick around to hear the rest of that joke. Why? Because a question has been planted in our minds, an open-ended question that has hooked us and makes us want to know the answer. (By the way, I just invented that set-up; if an actual joke exists, I don't know it. Sorry!)
I like to think of these narrative threads as "lines in the water." Like a fishing boat will trail six, eight, ten different lines with eye-catching lures hoping to attract fish, we as writers will trail as many narrative lines as we think the story can handle.
The goal is identical: to "hook" the reader.
Last week I included the following section from the "Scene by Scene" file I'm working with on a book project right now. Note the word LINE throughout:
29. TOXIC SLUDGE

Mika reveals that sludge is toxic waste — and human bones in it. ESCALATION of LINE #6. She wants to go to the police. Mika also shows S the JIMMY BRESLIN ARTICLE in the paper, which contains more backstory re B, i.e. LINE #4.

Breslin article prompts S to speculate on who planted it, who made it happen, and why now? LINE #6 and LINE #4. The fact alone that somebody made this happen shows that the stakes of LINE #6 are continuing to escalate. Now they've gone public. They're in the paper.
What I'm doing in this file, among other things, is keeping track of the story's "lines in the water." First, I'm very consciously and deliberately opening up those lines. An early scene will plant an open-ended question in the reader's mind. She, I hope, will keep turning the pages till she gets an answer.
I want to have as many lines as the story will hold and to keep each of them escalating all the time.
How many lines in the water does Game of Thrones have? Seems like a hundred, doesn't it? No wonder we can't stop watching.
Same with The Sopranos. Or Mad Men. Or House of Cards.
The idea is to hook the viewer with a slew of open-ended narrative streams, each one of which asks a compelling question. Will Carmela run away with Furio? Will Don Draper finally confront his hidden past? Will Francis ever pay for pushing Chloe in front of the subway train?
The more compelling the "lines," the more deeply we in the audience will be hooked.
Here's a trick that soap opera writers have been using for decades:
Give every character a story-line with every other character.
More >>
ABOUT
In January of 1966, when I was on the bus leaving Parris Island as a freshly-minted Marine, I looked back and thought there was at least one good thing about this departure. "No matter what happens to me for the rest of my life, no one can ever send me back to this freakin' place again."
Over forty years later, to my surprise and gratification, I'm far more closely bound to the young men of the Marine Corps and to all other dirt-eating, ground-pounding outfits than I could ever have imagined as I left Parris Island that first time. Gates of Fire is one reason. Dog-eared paperbacks of this tale of the ancient Spartans have circulated throughout platoons of U.S. troops in Iraq and Afghanistan since the first days of the invasions. E-mails come in by hundreds. Gates of Fire is on the Commandant of the Marine Corps' Reading list. It is taught at West Point and Annapolis and at the Marine Corps Basic School at Quantico; and Tides of War is on the curriculum of the Naval War College. In 2009, I launched the blog "It's the Tribes, Stupid" (which evolved into "Agora"), to help gain awareness of issues related to tribalism and the tribal mind-set in Afghanistan—with the goal of helping the Marines and soldiers on the ground better understand the different people they were facing in Afghanistan.
My father was in the Navy, and I was born in Port of Spain, Trinidad, in 1943. I graduated from Duke University in 1965. Since then, I've worked as an advertising copywriter, schoolteacher, tractor-trailer driver, bartender, oilfield roustabout and attendant in a mental hospital. I've picked fruit in Washington state, written screenplays in Tinseltown, and was homeless, living out of the back of my car with my typewriter. My struggles to earn a living as a writer (it took seventeen years to get the first paycheck) are detailed in The War of Art.
With the publication of The Legend of Bagger Vance in 1995, I became a writer of books once and for all. From there followed the historical novels Gates of Fire, Tides of War, Virtues of War, The Afghan Campaign and Killing Rommel.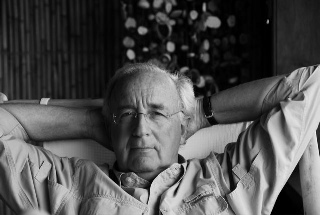 My writing philosophy is a kind of warrior code—internal rather than external—in which the enemy is identified as those forms of self-sabotage that I call "Resistance" with a capital R (in The War of Art). The technique for combating these foes can be described as "turning pro."
I believe in previous lives and the Muse—and that books and music exist before they are written and that they are propelled into material being by their own imperative to be born, via the offices of those willing servants of discipline, imagination and inspiration, whom we call artists. My conception of the artist's role is a combination of reverence for the unknowable nature of "where it all comes from" and a no-nonsense, blue-collar demystification of the process by which this mystery is approached. In other words, a paradox.
There's a recurring character in my books, named Telamon, a mercenary of ancient days. Telamon doesn't say much. He rarely gets hurt or wounded. And he never seems to age. His view of the profession of arms is a lot like my conception of art and the artist:
"It is one thing to study war, and another to live the warrior's life."