By

Steven Pressfield




Published

:

April 15, 2015

[The blog is hors de combat this week, as we prep for the launch of Shawn's wonderful new book, THE STORY GRID, coming in a couple of weeks. Here's one of my fave posts from a couple of years ago:]

In the past year or so I've become aware of the verb "ask" used as a noun. I simultaneously like it and am appalled by it.
An "ask" is a request for an action or a favor. I was reporting the contents of a long e-mail to a friend; she interrupted: "What's the ask?" Meaning, "What does the e-mail writer want?"
"Ask" originated, I suspect, in the publicity biz. The difference between advertising and publicity is you pay for advertising but you try to get publicity for free. Hence "ask." Schmooze schmooze schmooze ask.
Many moons ago I worked at Ted Bates Advertising in New York. One of Bates' rules of copywriting was, "Always end with a call to action." That's the ask. "Buy now." "Call this number." "Log in to win."
There are legitimate asks and not-so-legitimate asks. Have you read Josh Olson's immortal "I Will Not Read Your F*%king Script!" That's about an illegitimate ask.
I get a lot of asks. Write a blurb for my book. Write a foreword. Hype my stuff on your blog. Here's where I come out on asks:
1. If it comes from a real friend or a legitimate colleague, I do it.
2. If it comes from someone who seems like a decent person (or virtually anyone in the serving military), I do it. The good news here is that quite a few real friends have entered my life this way. You can tell a good ask from a bad ask.
3. Everyone else, I pass.
There's an ethic to the blogging world. It goes something like this. "For every 'ask,' you must first produce twenty 'gives.'" (Some would say a hundred.) A give is the opposite of an ask. I suspect that the heavy give-to-ask ratio is because what I might call a give (say, this post), you might consider a waste of time, a pain in the ass, spam.
I take my own asks very seriously, in the sense that I cringe when I do them and I try to balance them by as many gives as possible. Recently when The Profession was published, I did a bunch of asks. Buy this book. Tell your friends. I hate doing that. The way I justify it to myself is by saying that a person who reads an ask from me on this blog at least had to voluntarily come to the blog in the first place. Still, asks suck.
There are outbound asks and inbound asks. The trick with inbound asks is learning to say no. For most of us, this is not easy. I've been trying for years and still don't say no half as often as I should.
My problem is I like to think of myself as a nice guy. This is not good. I'm working on getting over that. There are people out there who are what I would call social sociopaths. They're not actual murderers or criminals; they won't hurt you. But, for whatever reasons of character or upbringing, they are utterly without empathy. They have no sense of the value of another person's time or hard-won skill or hard-earned reputation. If you've got it and they can use it, they want it. They want it now. They want it free. And they want it again and again.
More >>
ABOUT
In January of 1966, when I was on the bus leaving Parris Island as a freshly-minted Marine, I looked back and thought there was at least one good thing about this departure. "No matter what happens to me for the rest of my life, no one can ever send me back to this freakin' place again."
Over forty years later, to my surprise and gratification, I'm far more closely bound to the young men of the Marine Corps and to all other dirt-eating, ground-pounding outfits than I could ever have imagined as I left Parris Island that first time. Gates of Fire is one reason. Dog-eared paperbacks of this tale of the ancient Spartans have circulated throughout platoons of U.S. troops in Iraq and Afghanistan since the first days of the invasions. E-mails come in by hundreds. Gates of Fire is on the Commandant of the Marine Corps' Reading list. It is taught at West Point and Annapolis and at the Marine Corps Basic School at Quantico; and Tides of War is on the curriculum of the Naval War College. In 2009, I launched the blog "It's the Tribes, Stupid" (which evolved into "Agora"), to help gain awareness of issues related to tribalism and the tribal mind-set in Afghanistan—with the goal of helping the Marines and soldiers on the ground better understand the different people they were facing in Afghanistan.
My father was in the Navy, and I was born in Port of Spain, Trinidad, in 1943. I graduated from Duke University in 1965. Since then, I've worked as an advertising copywriter, schoolteacher, tractor-trailer driver, bartender, oilfield roustabout and attendant in a mental hospital. I've picked fruit in Washington state, written screenplays in Tinseltown, and was homeless, living out of the back of my car with my typewriter. My struggles to earn a living as a writer (it took seventeen years to get the first paycheck) are detailed in The War of Art.
With the publication of The Legend of Bagger Vance in 1995, I became a writer of books once and for all. From there followed the historical novels Gates of Fire, Tides of War, Virtues of War, The Afghan Campaign and Killing Rommel.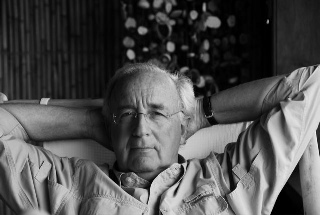 My writing philosophy is a kind of warrior code—internal rather than external—in which the enemy is identified as those forms of self-sabotage that I call "Resistance" with a capital R (in The War of Art). The technique for combating these foes can be described as "turning pro."
I believe in previous lives and the Muse—and that books and music exist before they are written and that they are propelled into material being by their own imperative to be born, via the offices of those willing servants of discipline, imagination and inspiration, whom we call artists. My conception of the artist's role is a combination of reverence for the unknowable nature of "where it all comes from" and a no-nonsense, blue-collar demystification of the process by which this mystery is approached. In other words, a paradox.
There's a recurring character in my books, named Telamon, a mercenary of ancient days. Telamon doesn't say much. He rarely gets hurt or wounded. And he never seems to age. His view of the profession of arms is a lot like my conception of art and the artist:
"It is one thing to study war, and another to live the warrior's life."