By

Steven Pressfield




Published

:

August 26, 2015

This is my favorite of all the posts we've ever run on this site. (Mainly because it's not written by me.) I read it every few months just to psych myself up. It's an article written by English concert pianist James Rhodes that appeared originally in the Guardian (UK).

Why do I love Mr. Rhodes' story of his bold move to change his life and become an artist?

1) Because James is a late bloomer. Much as I admire child prodigies, I hate them too because they found their calling so young and with so little agony. I like to see someone suffer before they find their way.

2) James' saga illustrates the depth of passion that such a journey requires—and the depth of madness. (Note the casual allusion to "nine months in a mental hospital.")

3) James' does not romanticize his life as an artist. No, he does not sail through the day whistling and grinning. And yes, the grind is still a grind. But he has gone from working for the Man to being the Man himself.
My life as a concert pianist can be frustrating, lonely, demoralising and exhausting. But is it worth it? Yes, without a shadow of a doubt
James Rhodes
Friday 26 April 2013
After the inevitable "How many hours a day do you practice?" and "Show me your hands", the most common thing people say to me when they hear I'm a pianist is "I used to play the piano as a kid. I really regret giving it up." I imagine authors have lost count of the number of people who have told them they "always had a book inside them". We seem to have evolved into a society of mourned and misplaced creativity. A world where people have simply surrendered to (or been beaten into submission by) the sleepwalk of work, domesticity, mortgage repayments, junk food, junk TV, junk everything, angry ex-wives, ADHD kids and the lure of eating chicken from a bucket while emailing clients at 8pm on a weekend.
Do the math. We can function—sometimes quite brilliantly—on six hours' sleep a night. Eight hours of work was more than good enough for centuries (oh the desperate irony that we actually work longer hours since the invention of the internet and smartphones). Four hours will amply cover picking the kids up, cleaning the flat, eating, washing and the various etceteras. We are left with six hours. 360 minutes to do whatever we want. Is what we want simply to numb out and give Simon Cowell even more money? To scroll through Twitter and Facebook looking for romance, bromance, cats, weather reports, obituaries and gossip? To get nostalgically, painfully drunk in a pub where you can't even smoke?
What if you could know everything there is to know about playing the piano in under an hour (something the late, great Glenn Gould claimed, correctly I believe, was true)? The basics of how to practise and how to read music, the physical mechanics of finger movement and posture, all the tools necessary to actually play a piece – these can be written down and imparted like a flat-pack furniture how-to-build-it manual; it then is down to you to scream and howl and hammer nails through fingers in the hope of deciphering something unutterably alien until, if you're very lucky, you end up with something halfway resembling the end product.
What if for a couple of hundred quid you could get an old upright on eBay delivered? And then you were told that with the right teacher and 40 minutes proper practice a day you could learn a piece you've always wanted to play within a few short weeks. Is that not worth exploring?
What if rather than a book club you joined a writer's club? Where every week you had to (really had to) bring three pages of your novel, novella, screenplay and read them aloud?
What if, rather than paying £70 a month for a gym membership that delights in making you feel fat, guilty and a world away from the man your wife married you bought a few blank canvases and some paints and spent time each day painting your version of "I love you" until you realised that any woman worth keeping would jump you then and there just for that, despite your lack of a six-pack?
I didn't play the piano for 10 years. A decade of slow death by greed working in the City, chasing something that never existed in the first place (security, self-worth, Don Draper albeit a few inches shorter and a few women fewer). And only when the pain of not doing it got greater than the imagined pain of doing it did I somehow find the balls to pursue what I really wanted and had been obsessed by since the age of seven—to be a concert pianist.
Admittedly I went a little extreme—no income for five years, six hours a day of intense practice, monthly four-day long lessons with a brilliant and psychopathic teacher in Verona, a hunger for something that was so necessary it cost me my marriage, nine months in a mental hospital, most of my dignity and about 35lbs in weight. And the pot of gold at the end of the rainbow is not perhaps the Disney ending I'd envisaged as I lay in bed aged 10 listening to Horowitz devouring Rachmaninov at Carnegie Hall.
More >>
ABOUT
In January of 1966, when I was on the bus leaving Parris Island as a freshly-minted Marine, I looked back and thought there was at least one good thing about this departure. "No matter what happens to me for the rest of my life, no one can ever send me back to this freakin' place again."
Over forty years later, to my surprise and gratification, I'm far more closely bound to the young men of the Marine Corps and to all other dirt-eating, ground-pounding outfits than I could ever have imagined as I left Parris Island that first time. Gates of Fire is one reason. Dog-eared paperbacks of this tale of the ancient Spartans have circulated throughout platoons of U.S. troops in Iraq and Afghanistan since the first days of the invasions. E-mails come in by hundreds. Gates of Fire is on the Commandant of the Marine Corps' Reading list. It is taught at West Point and Annapolis and at the Marine Corps Basic School at Quantico; and Tides of War is on the curriculum of the Naval War College. In 2009, I launched the blog "It's the Tribes, Stupid" (which evolved into "Agora"), to help gain awareness of issues related to tribalism and the tribal mind-set in Afghanistan—with the goal of helping the Marines and soldiers on the ground better understand the different people they were facing in Afghanistan.
My father was in the Navy, and I was born in Port of Spain, Trinidad, in 1943. I graduated from Duke University in 1965. Since then, I've worked as an advertising copywriter, schoolteacher, tractor-trailer driver, bartender, oilfield roustabout and attendant in a mental hospital. I've picked fruit in Washington state, written screenplays in Tinseltown, and was homeless, living out of the back of my car with my typewriter. My struggles to earn a living as a writer (it took seventeen years to get the first paycheck) are detailed in The War of Art.
With the publication of The Legend of Bagger Vance in 1995, I became a writer of books once and for all. From there followed the historical novels Gates of Fire, Tides of War, Virtues of War, The Afghan Campaign and Killing Rommel.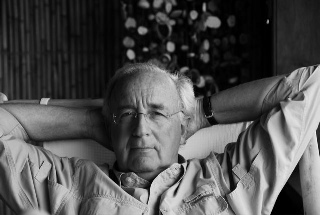 My writing philosophy is a kind of warrior code—internal rather than external—in which the enemy is identified as those forms of self-sabotage that I call "Resistance" with a capital R (in The War of Art). The technique for combating these foes can be described as "turning pro."
I believe in previous lives and the Muse—and that books and music exist before they are written and that they are propelled into material being by their own imperative to be born, via the offices of those willing servants of discipline, imagination and inspiration, whom we call artists. My conception of the artist's role is a combination of reverence for the unknowable nature of "where it all comes from" and a no-nonsense, blue-collar demystification of the process by which this mystery is approached. In other words, a paradox.
There's a recurring character in my books, named Telamon, a mercenary of ancient days. Telamon doesn't say much. He rarely gets hurt or wounded. And he never seems to age. His view of the profession of arms is a lot like my conception of art and the artist:
"It is one thing to study war, and another to live the warrior's life."